The New Standard
for Whistleblowing Management
SafeWhistle is an encrypted and anonymous whistleblowing solution, designed to address various industry standards.
SafeWhistle
for Corporate

For any size corporation in a regulated or unregulated industry such as automotive, financial services, aerospace and more.

SafeWhistle
for Government

Designed especially for all branches of government, from local municipalities to federal gov. For governance integrity and accountability.

SafeWhistle
for Education

A customized solution to report concerns and/or misconduct within the schools or school administration.

SafeWhistle
for Healthcare

Compliance solution for healthcare systems, hospitals, patient facilities, and senior care to increase accountability and transparency.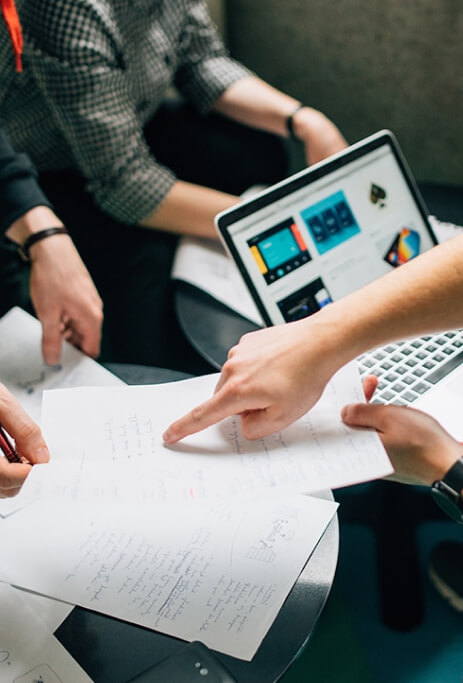 Call Us Today
(602) 692-3183
The assistant for your business
To create a safer, more transparent business world. To hold executives in government and the private sector accountable for the integrity of their enterprise in the most secure and private way possible.
Developing state of the art, encrypted, and secure whistleblowing systems for corporate America. SafeWhistle™ has become the most respected and trusted third-party whistleblowing platform by changing the way employees and corporations interact.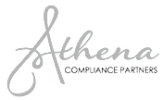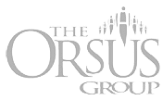 Corporations have handled whistleblowing cases with a reactionary mindset. As a result, there has been billions of dollars in financial damages, thousands of jobs lost, and irreversible damage to companies reputations.
Slide 5
2017
Volkswagen - Case Study
Slide 5
2017
Wells Fargo - Case Study
Slide 5
2017
Deutsche Bank - Case Study
Slide 5
2017
Zenefits - Case Study
Slide 5
2017
Catholic Healthcare West (Dignity) - Case Study
Slide 5
2017
Chrysler - Case Study
Resolutions
Efficiently resolve critical cases with urgency before they become headline news.

Engagement
Encourage a culture of accountability, corporate citizenship, and employee engagement.

Management
Give corporate executives the ability to apply the damage prevention mindset.

Visibility
Provide corporate leadership and stakeholders instant visibility and transparency.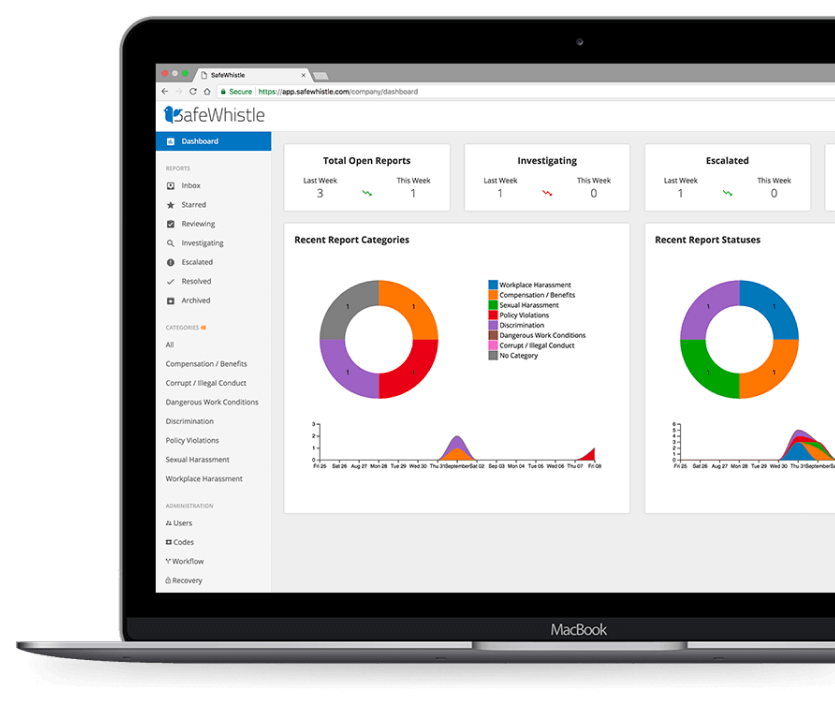 Get Started With SafeWhistle Today.
A platform for transparency, visibility & integrity.
What We Built
For SafeWhistle's

Employee Engagement
Give your employees an open door to report safely and securely, without concern.

Compliance Management
Adhere to regulatory compliance laws to ensure your business is within industry standards.

Damage Prevention
Knowing the problem is 80% of the solution. Establish a culture of transparency and accountability
From report to resolution
All the features you need,
in one place.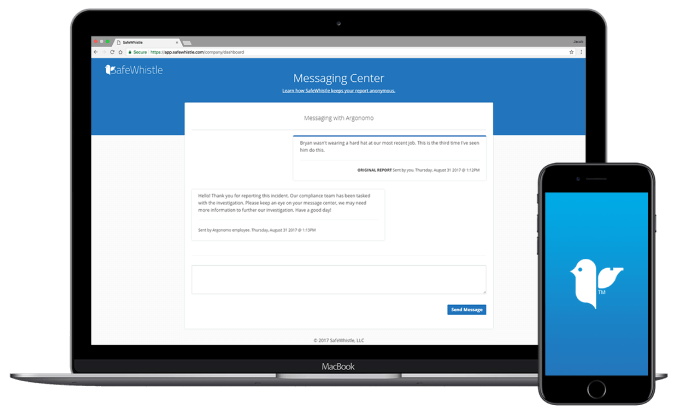 Anonymous Reporting
Report securely with no traceability from anywhere, at any time, using any device without having to install an app (optimized for web and mobile browsers).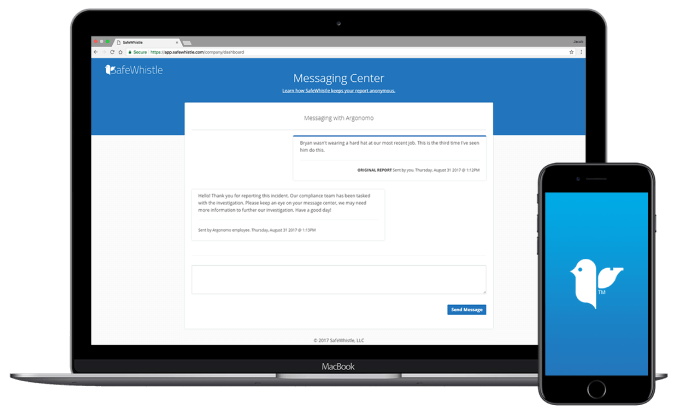 Case Management
Familiar inbox interface for ease of use.  Management can review, investigate, and escalate cases.  Save time, create visibility, and advocate transparency.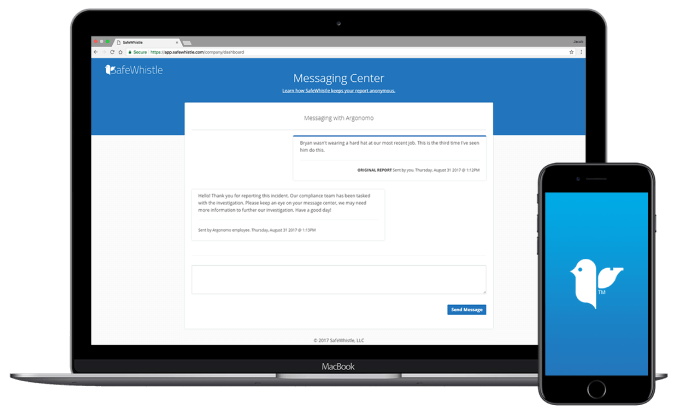 Messaging Center
Intuitive follow-up process.  Facilitate a secure conversation where the organization and whistleblower can collaborate effectively and anonymously in real time.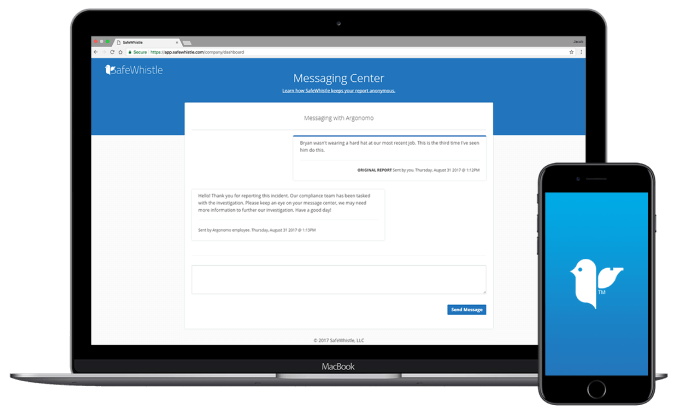 Escalation Workflow
Unattended reports are automatically escalated to the next level of management or department.  Integrating your company escalation workflow for maximum efficiency.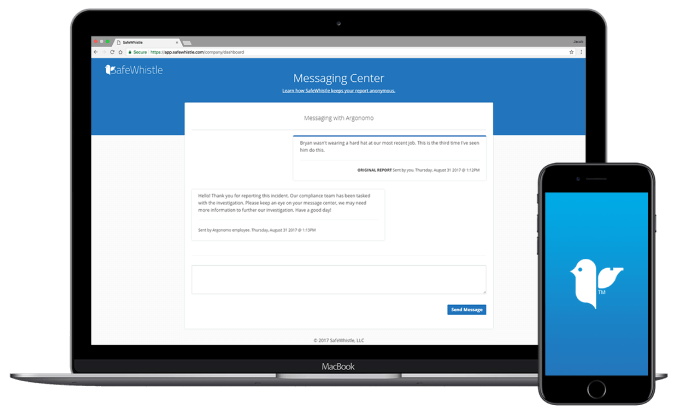 Report Dashboard
View the number of reports received by category.  This information can be easy used within the organization to report on hotline activity.
Enjoy To Integrate Your
Business Experience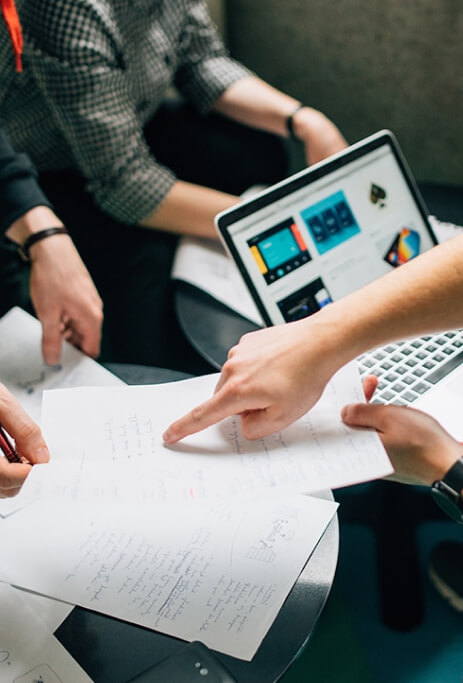 It's easy to set up your company.
Our sales representatives are here to help!