Daimler Chrysler
What Happened
Gilbert was the first female millwright at Chrysler's Jefferson North Assembly Plant in Michigan when she was hired in 1992. She alleged that male co-workers immediately started harassing her, with one remarking that a "bitch" had joined the work crews and another suggesting that she wear a dress to work so he could look up her skirt, Gilbert charged. The alleged sexual harassment continued for seven years, with sexual taunts and one incident in which an unknown co-worker left an "obscene" cartoon in her toolbox, she charged.
After Gilbert sued, a state court jury awarded her $21 million for her harassment claims. An appeals court upheld the decision, ruling that it was impossible to say that the trial court abused its discretion. But the Michigan Supreme Court overturned the decision in 2004, ruling that Gilbert's attorney had used "prejudice baiting rhetoric" and misleading arguments that swayed  jurors toward a verdict of "passion" and "prejudice." The top court sent the case back for further proceedings.
Estimated Damages: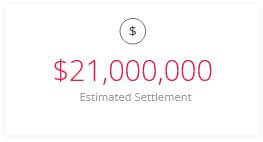 All information in this case study is based on data that was found on public domain and official public records.