Catholic Healthcare West (Dignity)
What Happened
A federal jury in California awarded Chopourian $168 million, potentially the largest judgment in U.S. history for a single victim of workplace sexual harassment. The award capped a trial in which the former physician assistant at Mercy General Hospital in Sacramento alleged she filed multiple complaints to no avail during her two-year tenure. The complaints included an allegation that one surgeon would greet her each morning by saying, "I'm horny," and then slap her bottom, the Los Angeles Times reported.
After attorneys on both sides submitted legal arguments about the award, the judge in the case decreased the total to $82,230,484. But the judge later vacated the award because attorneys reached a negotiated settlement, court records show.
Estimated Damages: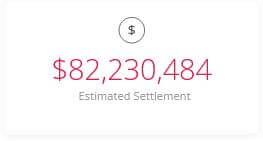 All information in this case study is based on data that was found on public domain and official public records.